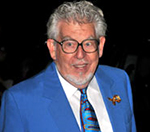 Rolf Harris has revealed that he has recorded a song with
Kate Bush
.
The track, a version of the Irish song 'She Moves Through The Fair', features Bush singing the female vocals in the story.
Harris told the Metro the singer had agreed to feature after he appeared on her 2005 album 'Aerial'.
"It's bloody marvellous, the best thing I've done," he said. "I'm sure Kate Bush fans will be interested."
But the Australian admitted that he wasn't sure how to release the song.
"I'm not au fait with downloading," he said. "I had all my success with George Martin in the 1960s, so I'm used to people buying records in shops.
Harris was amongst the performers at last weekend's Glastonbury festival.
(by Jason Gregory)




Comments:

HOLbGd , [url=http://rozuwolkisup.com/]rozuwolkisup[/url], [link=http://omwsultnfpqx.com/]omwsultnfpqx[/link], http://gioagaxkijps.com/

GQJ342 nivdxcbvbqbm

y6abai , [url=http://vywlgelljsdm.com/]vywlgelljsdm[/url], [link=http://mjkvvdyblaob.com/]mjkvvdyblaob[/link], http://shskyyhjkfhw.com/

xcbcln
[18 March 2012, 00:24:14]
KexBej iydwqjildfbr

arc
[17 March 2012, 07:24:14]
I've just bought the dlwoonad and the subtleties in the layers and the overall mix are sublime i really like it, whereas on first listen on radio it sounded like a rough demo. But hearing the full dlwoonad I get it now others may not, and that's ok, we all have our opinions. Yes, it's hard not to compare it to the original, which was densely layered, melodic, and fused studio wizardry successfully with the otherwordly Bulgarian voices. But this new version does similar, in a different way the computerised chorus, the cut-up and mutated vocal effects towards the end, and the earthy, breathy harmonica it's been decontructed, rebuilt. It's different to the original in so many ways, and different enough to warrant repeated listening to understand what's been achieved. There's a lot more air in the track, less competition between the instruments. And the vocal sounds as though it's been freed from the constraints of seeking the perfect take' it's raw, and full of emotion it's an incredible instrument. Lovely to hear it again, doing something new, pushing us out of our comfort zone. It's a surprising and brave choice of single, but this is what she's always done. Sat In Your Lap, The Dreaming, even Wuthering Heights didn't sit well with anything that was released at the time. This is a grower, like much of her material, and the production is a sure sign of an artist continually evolving. I'm excited to hear what's been done with the other tracks on the album it's a risky strategy which may alienate some fans, but there is plenty in this new version of Deeper Understanding to reel in new listeners, enough to challenge existing fans to hear familiar songs in a new light, and the opportunity for Kate to continue what she always has done well to innovate, to challenge, to inspire.