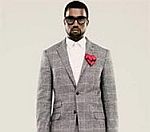 Kanye West
has promised fans he will release a new song every weekend until Christmas.
It comes after he allowed people to download a Jay-Z-featuring remix of his new single 'Power' on Friday (August 20).
West said each new song would arrive on the same day - which he dubbed "Good Friday" - and would be either be one of his tracks or a song he has produced.
"I know yall need the music so I'm dropping 1 new song every weekend until Xmas," the rapper wrote in a post on Twitter.
"It may be my song it may be a new Jay song etc."
He added: "I'm calling it good Fridays. Ya'll know every Friday ya'll gone have a new joint from our family. We look at the game completely different now.
"It's about the fans. No more holding back. That's why I dropped 'See Me Now'... It wasn't about me it was about the Summer the BBQs etc..."
West is currently putting the finishing touches to his new album. The follow-up to 2008's '808s And Heartbreak' is due to be released in November.
He also recently completed a Justin Bieber remix.
(by Jason Gregory)