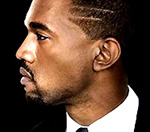 Kanye West
has been left upset after
Def Leppard
singer Joe Elliott called him a "stupid dumb rapper".
Elliott made the comment in response to West's much-criticised outburst at last year's MTV Video Music Awards.
The singer said he wanted to "kick his [Kanye West's] head in" after the rapper stormed the stage to interrupt Taylor Swift's acceptance speech.
Elliott's comment has angered West, according to the Daily Mirror.
"Kanye has thrown out any Def Leppard vinyls and has told his people he refuses to be in any award shows where they are present," a source said.
Meanwhile, the video for West's new single 'Power' is due to be given its world premiere later today (August 5).
It has been directed by the artist Marco Brambilla.
(by Jason Gregory)