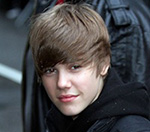 Justin Bieber
has overtaken
Lady Gaga
to claim the most viewed video on YouTube.
The two artists have been doing battle on the video-sharing website for several months.
As of Friday (July 16), the 16-year-old star's video for 'Baby' had been watched 245,746,720 times.
Lady Gaga's video for 'Bad Romance', which had initially been ahead in the race, currently has 245,570,952 views.
Bieber, who found fame on YouTube, thanked his fans in an update on Twitter.
He also paid tribute to Lady Gaga, describing her as "an incredible artist who have great respect 4".
As previously reported, Lady Gaga recently became the first living person to get more than 10 million fans on Facebook.
The singer beat US president Barack Obama to the title.
(by Jason Gregory)