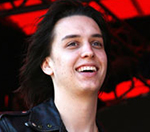 Julian Casablancas
has hit out at his record label claiming the distribution of his album '
Phrazes For The Young
' was "executed terribly."
The Strokes frontman's debut solo effort was released Stateside through the independent imprint Cult Records in conjunction with RCA Records, and it's the latter he had issues with.
"Working on music is the funnest thing for me," he told New York Magazine. "I could do it all day, all night. But there's all this other crap that I just constantly have to do."
Expressing his grievances, Casablancas continued to speak of major label RCA: "They are not the label I signed with.
"The people change all the time. They're nice, they're cool, but honestly they don't do shit ... I still like the plan, but it was executed terribly."
The excellent 'Phrazes For The Young' is out now via Rough Trade in the UK.
(by Scott Colothan)