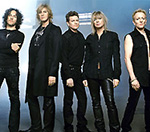 Def Leppard
have announced details of their first ever live album.
The album, entitled 'Mirrorball', is released on June 6 and was recorded during the band's 2008/9 tour.
It also includes three new songs: 'Undefeated', 'Kings Of The World' and 'It's All About Believin''.
As well as CD and DVD, 'Mirrorball' will also be available online, marking the first time the band's music will officially be made available for digital purchase.
As previously reported , Def Leppard are among the headliners at this year's Download festival in Donnington.
Mirrrorball' tracklisting is:
Disc One:
Rock! Rock! (Till You Drop)

Rocket

Animal

C'Mon C'Mon

Make Love Like A Man

Too Late For Love

Foolin'

Nine Lives

Love Bites

Rock On
Disc Two:
Two Steps Behind

Bringin' On The Heartbreak

Switch 625

Hysteria

Armageddon It

Photograph

Pour Some Sugar On Me

Rock Of Ages

Let's Get Rocked

Action

Bad Actress

Undefeated

Kings Of The World

It's All About Believin'
(by Jason Gregory)