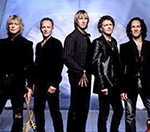 Def Leppard
have revealed plans to release their first live album, later this year.
The band are planning to use the best live footage from their recent world tour to create the album.
"We've got the entire tour backed up onto three or four hard drives. So we have the unenviable task of listening to probably 50 versions of every song we've ever played," frontman Joe Elliot told the Artisan News Service.
He added: "You've got to listen to them (the songs) two or three times to make sure nothing bad slips through. By autumn we should have it [the live album] down though."
Meanwhile, Kanye West has been left upset after Joe Elliott called him a "stupid dumb rapper".
(by Holly Frith)