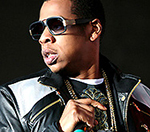 Jay-Z
has admitted he would have robbed
Coldplay
frontman Chris Martin if they had met in the past.
The rapper has become close friends with the singer, but said it would have been a different story when he was growing up in Brooklyn's Marcy Projects.
"What would I have thought of Chris at 16? That's a different scenario," Jay-Z told Q magazine.
"He couldn't have walked through Marcy. I was a different person then - I wasn't open to the world and different cultures.
"I would have been, 'Yo! Who are you? Give me your money.' You couldn't have a guy like Chris walking through Marcy. He'd have got robbed. At best."
Jay-Z also praised Martin and his wife Gwyneth Paltrow, describing their family as "really cool".
As previously reported, Jay-Z is set to support U2 on their upcoming Australian tour dates.
(by Jason Gregory)