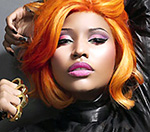 Nicki Minaj
will join
Britney Spears
on her North American tour this summer, it has been confirmed.
The rapper, who released her debut album 'Pink Friday' last year, will be the main support act on Britney Spears' Femme Fatale tour, which starts on June 17 in California.
In a statement Spears said: "This is the Femme Fatale tour and I am thrilled to have Nicki Minaj, Jessie and the Toy Boys, and Nervo join me and get everyone on the dance floor."
Spears released her new album 'Femme Fatale' at the end of last month. The album went straight in at number one on the US Billboard album chart.
(by Holly Frith)