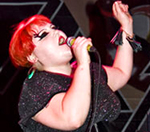 The Gossip
's
Beth Ditto
has said that she thinks UK music fans are 'fickle'.
The singer, who released her self-titled debut solo EP in January, also said that Gossip are not a one-hit wonder act.
"One-hit wonder? Not really, because we're big in places that don't even know about Standing in the Way of Control," Ditto told The Guardian.
She added: "Music for Men sold more than a million copies worldwide – just not so well in the UK. But the UK is so fickle anyway."
Beth Ditto's solo EP was produced by Simian Mobile Disco and includes the songs 'Do You Need Someone', 'Goodnight Good Morning', 'I Wrote The Book' and 'Open Heart Surgery'.
(by Holly Frith)