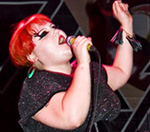 Gossip
star
Beth Ditto
has released a teaser for her forthcoming debut solo EP.
The as-yet-untitled EP has been produced by Simian Mobile Disco and is due out in January via Deconstruction Records.
The sampler, which is available for streaming below, marks a departure from Ditto's punk-background towards Simian Mobile Disco's familiar electro.
It will arrive just over a year after Gossip released their last album 'Music For Men'. It is not currently clear whether Ditto plans to release a solo album in addition to the EP.
Beth Ditto EP teaser:
(by Jason Gregory)