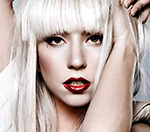 Lady GaGa
has revealed that she never agreed to feature on the remake of 'We Are The World'.
Recent US media reports claimed the singer had signed up for the Lionel Richie-organised charity single, which aims to raise money for the victims of the recent earthquake in Haiti.
But Lady GaGa was absent from the recording session in Los Angeles on Monday.
The singer has now confirmed that she was asked to contribute to the song but said other commitments had prevented her from getting involved.
"I believe that they may have asked, yes, about it, but I was unable to do it," she told Access Hollywood.
Instead, Lady GaGa said she had been "working on my own charity projects for Haiti" and had so far raised more than half a million dollars.
"I donated all of the proceeds from one show worth of ticket sales as well as all the of the merchandise from that show and for 24 hours we had a 'Gaga for Haiti' day where everything that was bought on the Web site… every dollar went to Haiti," she said.
"We're continuing to work on more projects and we're supposed to go to Haiti later this year for a show, which is very exciting."
Lady GaGa is due to arrive in the UK later this month ahead of the start of the European leg of her Monster Ball tour.
(by Jason Gregory)