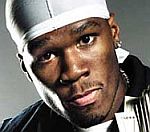 50 Cent
has revealed that he only appeared on
Nicole Scherzinger
's new single 'Right There' because he fancies her.
The rapper admitted that he wanted a date with the singer and might ask her out in the future.
"I was really wanting to date her... Maybe I'll get a chance to do the video and be next to her and see what happens," 50 Cent told The Sun.
The single is taken from Scherzinger's debut solo album 'Killer Love', which was released earlier this year.
Nicole Scherzinger recently knocked Adele off the UK top spot with her single 'Don't Hold Your Breath'.
(by Holly Frith)