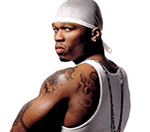 50 Cent
says that fans should expect his new album to be released before the Summer.
The rapper has reveled that 'Black Magic', the follow-up to 2009's 'Before I Self Destruct', has been produced by Dr Dre and Swizz Beats.
"Fans should look forward to the actual album this summer, so I have to release something soon. I'm not sure if I'll make a full mixtape beforehand," 50 Cent told MTV.
He added: "That's what I was doing when I was making collaborations with new artists: I was working with artists that wouldn't exactly be my equal because they don't have a successful track record."
(by Holly Frith)