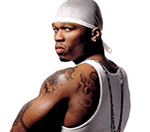 American chat show host Chelsea Handler has again denied reports that she is dating
50 Cent
.
Rumours that the pair were enjoying a romance first surfaced when they were spotted together at a jazz bar in New Orleans last week.
Handler, who presents Chelsea Lately, denied the reports at the time in a post on Twitter.
But the rumours developed further on Tuesday (October 12) when a guest comedian on Handler's show told her: "Thank you for banging 50 Cent."
Handler replied: "I'm not banging ... I'm not banging. He wasn't singing to me. He was singing and I saw it."
Addressing the audience, the presenter, who hosted this year's MTV VMAs, added: "There's nothing to talk about."
50 Cent, who is currently recording a new album, has yet to comment on the reports.
(by Jason Gregory)