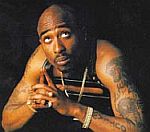 Afeni Shakur, the mother of the late US rapper
Tupac Shakur
, is to file a $10million lawsuit against a production company over the rights to make a film about her son.
The rapper's mother claims Morgan Creek created "a nonexistent 'agreement'" which suggested she had agreed to make the movie with them.
Then, when Shakur looked at other possible partnerships, Morgan Creek made "heavy-handed threats" against her and engaged in "coercion and intimidation", the lawsuit claims.
Morgan Creek filed their own lawsuit last month, in which they said Shakur's company, Amaru Entertainment, had sent a proposal for the film in December 2008.
The production company claims Amaru then backed out of a finalised deal over the rights to the film, the BBC reports.
Tupac Shakur was killed in a drive-by shooting in Las Vegas which remains unsolved.
The rapper was inducted into the Hip-Hop Hall of Fame in 2002.
(by Jason Gregory)