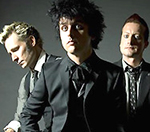 Green Day
played a surprise gig as the curtain came down on the Broadway production of American Idiot at the weekend.
The production, inspired by the band's career, closed following over 400 performances at St James Theater in New York.
Singer Billie Joe Armstrong, who appeared in the musical towards the end of its run, joined his band for a 10-song performance, reports Rolling Stone.
The career-spanning set included 'Burnout', 'Holiday' and 'Murder City' from Green Day's recent album '21st Century Breakdown'.
No official announcement for the show's closure has been given, but it comes not longer after ticket sales plummeted when Armstrong's recent run in the show came to an end.
(by Jason Gregory)