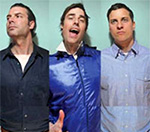 Battles
are set to play a gig in London this summer, it's been announced.
The band will perform at Heaven on June 8 as part of their previously announced UK tour.
Battles release their new album 'Gloss Drop', which is the follow to their 2007 full-length debut 'Mirrored', on June 6.
(by Jason Gregory)