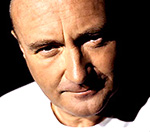 Phil Collins
is not retiring from music, a spokesperson for the star has said.
The former Genesis star triggered doubts over his music career in a recent interview with FHM, during which he said "it feels like a good time to stop for a while".
He added: "I don't think anyone's going to miss me."
But a spokesperson for Collins told People magazine: "He is not, has no intention of, retiring."
Collins is currently recovering from an operation to treat nerve damage in his left hand.
Collins released his latest album 'Going Back', which features covers of 60's Motown & Soul classics, last year.
(by Jason Gregory)