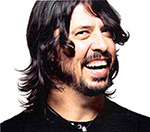 Foo Fighters
frontman Dave Grohl has revealed that his daughter is a big fan of
Justin Bieber
.
The singer said he admired the singer, who celebrated his 17th birthday on Tuesday (March 1), for his ability to gain such a vast fan base.
"My daughter Harper, who is not even two, can sing that 'Baby' song," he told the Daily Star.
"So whatever that dude did to brainwash the world with that crazy, music sh*t he does, God bless him, ya know."
Meanwhile, Foo Fighters are set to release their new album 'Wasting Light' in April.
The band showcased songs from the album during several gigs in London last week, including a huge performance at Wembley Arena.
(by Jason Gregory)