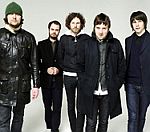 The Kaiser Chiefs
have spoken about their anticipated return to music.
The Leeds band are set to return this year with the follow-up to 2008's 'Off With Their Heads'.
"We're busy. The writing started a long time ago, like a year-and-a-half ago. It's just been on a nice steady pace because we've had a lot of time off. I like the fact that guitars are beginning to creep back in and it's exciting," drummer Nick Hodgson told the Daily Star.
He added: "I like all kinds of music but when I hear something I really like it normally has loud guitars in it and I'm starting to hear more of that everywhere."
Meanwhile, last year Kaiser Chiefs frontman Ricky Wilson landed a role in the final Harry Potter film.
(by Holly Frith)