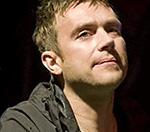 Gorillaz
founders
Damon Albarn
and Jamie Hewlett have raised questioned over the group's long-term future.
The pair, who are currently on tour, have revealed that Gorillaz maybe over after the tour has finished next month.
"It's been an unqualified success - bizarrely... But... we always think that when we get to a point where we've achieved something that it's time to stop, don't we?…" Albarn told The Sunday Morning Herald.
He added: "We'll see how we feel in January (after the tour). A period of reflection and sobriety... I couldn't keep going at this size and pace."
Jamie Hewlett also spoke about the group's future: "This would be a wonderful point to leave Gorillaz; at the end of this tour, I think... This tour, with these people, is a one-off. It's a once-in-a-lifetime experience. We'll never repeat this."
Meanwhile, N*E*R*D star Pharrell Williams has revealed that he's putting a song together with Albarn.
(by Holly Frith)