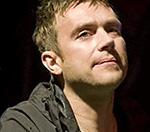 Damon Albarn
has spoken in detail about the
Gorillaz
new album '
The Fall
'.
The follow-up to this year's 'Plastic Beach' was recorded on an iPad and is due to be released as a free download on Christmas Day (December 25).
Albarn told Australian radio station Triple J: "It's called The Fall because I wrote it in October. I didn't want to call it October because U2 had already used that.
"Although I like the word October, I like the month, I like the feeling."
The album was recorded during the band's US tour.
"I found working in the day, whether it's in the hotel or in the venue, it was a brilliant way of keeping myself well," Albarm said.
"It's like a diary, I literally wrote everything on the day in each place and there's a strange sort of sound of America and it's musical traditions that comes through. It feels like a journey through America."
'The Fall' will feature a mix of collaborators, Albarn added, many of whom just "popped in" while it was being recorded.
(by Jason Gregory)