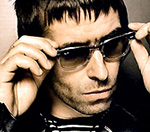 Beady Eye
, the new band of former
Oasis
star Liam Gallagher, have announced the title and tracklisting for their debut album.
'Different Gear, Still Speeding' is released on February 28, 2011 on the band's own record label and includes 13 new songs.
The album was recorded alongside producer Steve Lillywhite at RAK Studios in London earlier this year. You can see the artwork on the right hand side of this page.
Beady Eye consists of Oasis's former line-up minus Liam's brother and guitarist Noel Gallagher.
The group are due to embark on a short UK tour in March next year.
The tracklisting for 'Different Gear, Still Speeding' is:
Four Letter Word

Millionaire

The Roller

Beatles And Stones

Wind Up Dream

Bring The Light

For Anyone

Kill For A Dream

Standing On The Edge Of The Noise

Wigwam

Three Ring Circus

The Beat Goes On

The Morning Son
(by Jason Gregory)