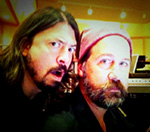 Foo Fighters
frontman Dave Grohl has revealed that former
Nirvana
bandmate Krist Novoselic features on the "darkest song" on the group's new album.
Grohl, who used to play drums in Nirvana, first revealed details about the collaboration in October.
But speaking in more detail, the singer told Q magazine that working with Novoselic again felt very natural, and that the bassist also plays accordion on the song 'I Should Have Known'.
"We've always been in touch. One of the things about the expanded Nirvana family, it doesn't matter how much time has passed, when you see each other you're immediately connect by that, by the good and bad things," Grohl said.
"When I see Krist, I hug him to celebrate our lives, but I also hug him to console him, y'know."
He added: "There's a song called 'I Should Have Known' that I thought would sound great with his bass-playing and accordion-playing. It's probably the darkest song on the album."
Other songs on the as-yet-untitled Butch Vig-produced album include 'A Matter Of Time' and 'White Limo'.
The follow-up to 2007's 'Echoes, Silence, Patience & Grace' has yet to be given a release date.
(by Jason Gregory)