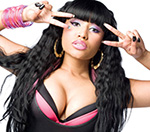 Nicki Minaj
has spoken about her relationship with
Young Money
mentor
Lil' Wayne
.
The rapper, who attended Lil' Wayne's homecoming party at the weekend, said the hip-hop star had taught her the importance of never slowing down.
"I'd say to go super, super hard like your life depending on it and always act like, almost act like you're running out of time," she told DJ Greg Street.
"Do the best you possibly can, quickly as you possibly can. Feed the people with music. That's what I've learned."
Minaj went on to describe Lil Wayne's return from prison and reunion with his Young Money labelmates as "very spiritual".
"That was the first time Young Money has been in the same building in like nine months," she added.
Minaj is due to release her debut album 'Pink Friday' on November 22.
(by Jason Gregory)