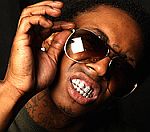 Lil' Wayne
has posted a video on Facebook thanking his fans for supporting him during his stint in prison.
The rapper was released from Rikers Island in New York last week after serving eight months of a one-year sentence for gun possession.
In the video Lil' Wayne said his fans had helped him last the journey behind bars.
"What's poppin' to all my Facebook friends? I think there's like 14 million of y'all," he said.. "Just know that I send 14 million thank-yous to y'all — thanx-yous to y'all."
He added: "I couldn't have did it without you," he said. "I won't do it without you."
Lil' Wayne has attended a series of parties in Miami following his release from prison. The rapper also made a surprise appearance on stage alongside Drake at a gig in Las Vegas.
(by Jason Gregory)