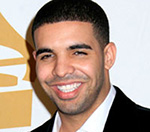 Drake
has revealed that
Lil' Wayne
telephoned him shortly after the rapper was released from prison on Thursday (November 4).
Lil' Wayne was freed after serving eight months of a one-year sentence for gun possession.
Appearing at a gig in California last night, Drake said he was in "one of the greatest moods I've ever been in" because of the rapper's release.
He went on to discuss a phone call he had shared with Lil' Wayne where the rapper said he wanted to know if the fans still loved him.
Drake then used a hand-held video camera to film the crowd's raucous reaction to the question.
The rapper was also joined by Nicki Minaj, who made a surprise appearance at the show.
Meanwhile, Lil' Wayne is expected to accompany Drake at a gig in Las Vegas on Saturday (November 6).
(by Jason Gregory)