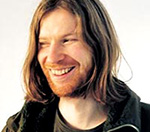 Aphex Twin
has completed work on six studio albums.
The producer, aka Richard D, said the albums contained a mixture of new and old material, but stopped short of confirming any release plans.
"I've got six completed," he told Another Man magazine. "Two are very non-commercial, abstract, modular-synthesis, field recordings – those I finished four years ago.
"Another one is 'Melodies From Mars', which I redid about three years ago.
"There's one of stuff I won't go into; a comp of old tracks which is never really finished and always changing; and then one I'm working on now. There are also loads of tracks which don't belong anywhere."
Aphex Twin released his last studio album 'Drukqs' in 2001.
(by Jason Gregory)