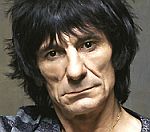 Rolling Stones
star
Ronnie Wood
has said he stopped drinking because he feared turning into TV character Victor Meldrew.
The guitarist, who has battled drink and drugs throughout his career, gave up drinking eight months ago.
Wood told The Sun alcohol had stopping him working and also left him concerned that he becoming the One Foot In The Grace star.
"I was a grumpy old man," he said. "I thought, 'This is not me, I'm not like this. I shouldn't be this grumpy git'."
Wood said he now felt like a "newborn baby" in the mornings, adding: "I'm waking up and thinking, 'Wow, I actually know what I'm doing'."
The Rolling Stones are currently on hiatus, but fellow guitarist Keith Richards has hinted that the group are discussing a possible comeback.
(by Jason Gregory)