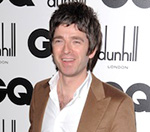 Noel Gallagher
has apparently mocked the ongoing controversy surrounding footballer Wayne Rooney's private life.
The Manchester United striker hit the headlines over the weekend following revelations over his private life.
Gallagher also appeared to allude to the recent personal troubles of Ashley Cole and Peter Crouch at the GQ Men Of The Year awards in London last night (September 8).
The former Oasis guitarist made the comment after Rooney's fellow Manchester United teammate Ryan Giggs was named Sportsmen Of The Year.
"Giggsy-wiggsy? Sportsman Of The Year?," Gallagher told The Sun.
"When you consider the gymnastics Wayne Rooney, Ashley Cole and little Peter Crouch have been getting up to lately, that award was a bit of a sham."
Gallagher also joked about Damon Albarn's Gorillaz after they were named Band Of The Year.
"Gorillaz definitely deserve some kind of award - if only for having 104 people on stage at Glastonbury," he said.
"What a f*cking rider that must've been to organise - more complicated than a Big Brother shopping list!"
Meanwhile, Kinks star Ray Davies was given the Outstanding Achievement award at last night's ceremony.
(by Jason Gregory)