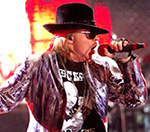 Guns N' Roses
frontman Axl Rose has said that the band were not late for their headline slots at last weekend's Reading and Leeds festivals.
The group took the the stage an hour later than scheduled in Reading on Friday (August 27) and 30 minutes later in Leeds on Sunday (August 29).
Their seemingly late arrival upset many festival-goers, but Rose has insisted that the band performed in accordance with their contract.
"Our start times at the Reading and Leeds festivals factually had nothing to do with us as the previous bands (who were great by the way) came off stage when they did and we went on within' our contracted and documented changeover time period," he wrote on Twitter.
"Whatever other nonsense anyone's choosing to write would appear intentionally false."
Rose, who said he wasn't involved in the booking process, went on to suggest that organisers had only invited them to boost ticket sales.
"So it's a cash grab with no respect for the fans or the band and somehow an unwanted inconvenience for the cities and law enforcement," he wrote.
Organisers had warned all acts before the festival about a strict curfew.
On Tuesday, Rose praised festival-goers who watched their headline slot at both sites were "amazing", even though large sections of the audience were heard booing the band.
Guns N' Roses are due to return in October for a UK tour.
(by Jason Gregory)