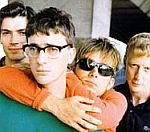 Blur
's first single in seven years is entitled 'Fool's Day'.
Limited to 1000 copies, the new song will be released on one-sided 7-inch vinyl single on April 17th, 2010 through Parlophone Records.
'Fool's Day' was recorded in London earlier this month and marks the first time all four members of Blur have recorded together since 'Battery In Your Leg' on 2003's 'Think Tank'.
The single will only be available in 150 participating stores across the UK as part of Record Store Day.
Damon Albarn said: "We want independent record stores to continue - they're an important part of our musical culture. Music is a simple way for Blur to show our support and we hope people like it."
Spencer Hickman, on behalf of Record Shop Day, added: "This release just shows how big Record Shop Day has become and I for one can't wait to be in the thick of the action come Saturday morning"
Earlier today, Parlophone Records president Miles Leonard described 'Fool's Day' as a "wonderful summer record."
The single is one of 12 limited-edition 7-inch vinyls Parlophone Records is releasing on Monday.
The full list of titles is as follows:
Artist: Babyshambles
Side of the Road

UnBiloTitled
Artist: Bat For Lashes
Howl! (Live at De La Warr Pavillion)

Wild Is The Wind (Live at Grove Music Studios)
Artist: The Beatles
Artist: Blur
Artist: Chiddy Bang
Opposite of Adults

Sooner or Later
Artist: Danger Mouse & Sparklehorse
Artist: Eliza Doolittle
Artist: Hot Chip
Artist: Jónsi
Artist: Lily Allen
Back To The Start

Kabul Shit
Artist: Pet Shop Boys
Love Life

A Powerful Friend
Artist: Tinie Tempah
Pass Out

Pass Out (SBTRKT Remix)
(by Scott Colothan)