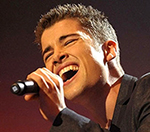 X Factor
winner
Joe McElderry
has overtaken
Rage Against The Machine
's 'Killing In The Name' on several download charts.
'The Climb' is the number one download on both Amazon and iTunes, following an early lead from the anti-X Factor RATM song backed by a huge Facebook campaign.
Website Live Hits, which lists real time tracking of download sales, also lists 'The Climb' at number one.
Further grim reading is that bookmakers Ladbrokes have now slashed the odds on McElderry scoring the number one with his Miley Cyrus cover to 1/8 favourite.
Nick Weinberg from Ladbrokes said: "Joe is the toast of fans up and down the country. For weeks now he's looked like the only realistic winner and has justified his billing. Christmas chart success is virtually assured."
Last night's X Factor final, featuring guest spots from Sir Paul McCartney and Leona Lewis, was watched by an estimated 17million people.
(by Scott Colothan)