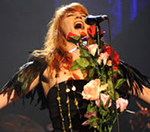 Jarvis Cocker
made a special guest appearance with
Florence and The Machine
at The Tabernacle in London last night.
The night, dubbed 'Florence and Friends' also saw Patrick Wolf, Jack Penate and Kid Harpoon perform with Florence.
Wolf was the first guest star and duetted on both 'Dog Days' and 'Cosmic Love' before Jack Penate was introduced. Describing how the pair went to school together Florence then covered Penate's 'Every Glance'.
The biggest surprise of the night came however when Jarvis Cocker was introduced to the intimate 500 capacity crowd. The pair then performed Florence's song 'Girl With One Eye' and 'Underwear' by Pulp.
The show then ended with everyone on stage for a collaborative 'You've Got The Love' including Wolf playing piano alongside other guest stars Kid Harpoon and Pulp's Steve Mackay.
(by David Renshaw)