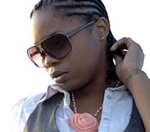 Mercury Prize winner
Speech DaBelle
has quit her record label Big Dada blaming poor sales.
The singer had shifted 3,000 units prior to her coveted win in September but sales have only increased to 10,000 – less than the singer expected.
The singer – real name Corynne Elliot – told the BBC: "The Mercury Prize was on Tuesday, and on Friday there were no more physical albums in the shops"
"So, on the Mercury weekend, which would have been my biggest selling weekend, people couldn't get it.
"I wasn't disappointed that it didn't sell well, I was disappointed in the people I was working with."
Big Dada's parent company Ninjatune haven't commented on the issue.
(by Scott Colothan)