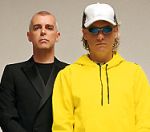 Pet Shop Boys
say they would love to perform at Glastonbury 2010, despite not getting an invite yet.
Singer Neil Tennant told BBC6music that the duo's only appearance at the festival in 2000 was an overwhelmingly positive one and he'd be happy to perform at the festival's 40th anniversary in June.
Tennant said: "We played the mainstage at nine thirty on Saturday night, and it was an amazing experience as we wondered whether Glastonbury wanted to see the Pet Shop Boys - whether we were too dance or pop or something for them, but it really went down fantastically well."
And Tennant continued that if Eavis invited him, they'd be more than happy to rope in a special guest.
He added: "A good song for us to do with people is 'What Have I Done to Deserve This' as sadly Dusty Springfield isn't around anymore. We've done it with Melissa Etheridge in America before, Lady Gaga at the Brits, Cerys Matthews from Catatonia when we did Glastonbury 2000... there's always a little vacancy there for someone."
(by Scott Colothan)