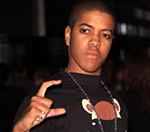 Chart-topping UK rapper
Chipmunk
has sparked fears for his health after writing suicide threats on Twitter.
His his official Twitter page @chipmunkArtist, the 18-year-old wrote on Saturday "I wanna die".
According to The Sun, this was followed by the question "Is suicide easy?" - a Tweet which has now been removed from his page.
A spokesperson for Chipmunk admitted the strains of touring had been getting to him, saying: "Chipmunk has been working incredibly hard, which has taken its toll.
"Management have agreed to cancel all upcoming appearances to give him some much needed time off."
Clearly recognising his problem, last night Chipmunk wrote on Twitter: "This has been the most difficult time for me... But I will get through it!"
(by Scott Colothan)