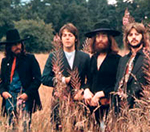 The Beatles
back-catalogue has been pulled from a US website which was selling the collection at a discounted price.
An LA judge granted the band's record label, EMI, an injunction against Bluebeat.com during a court hearing on Wednesday.
The order was issued after EMI began legal action against the website, claiming the company did not have permission to sell the songs.
Bluebeat's owner, Hank Risan, argued that his website did not need a licence because it was selling re-recorded versions of the band's songs, which had been created using "psycho-acoustic simulation" software.
But the judge told Risan he did not have evidence to support his claim.
A further court hearing is scheduled for November 20, according to the BBC.
The Beatles are one of the few remaining acts who have yet to authorise their music for sale online.
The band's step into the digital world is dependent on the outcome of negotiations between their music management company Apple Corps and EMI.
Last November, Sir Paul McCartney told journalists in London that discussions had "stalled".
Meanwhile, it was announced earlier this week that the band's digitally re-mastered back catalogue is to be released on a limited edition apple-shaped USB.
It follows the catalogue's successful re-issue on CD in September.
(by Jason Gregory)