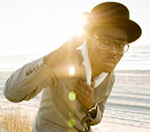 Mr Dev Hynes,
Lightspeed Champion
, has announced details of his second studio album.
The fetchingly titled 'Life Is Sweet! Nice To Meet You' is released via Domino Records on February 1st 2010.
Billed as "an epic collection of twelve pop songs, two instrumental intermissions and one piano étude" the record was produced by Ben Allen and sees Hynes embrace more eclectic sounds.
The record is preceded by the single 'Marlene' on January 25, which you can see a taster of below.
The album track-listing is as follows:
Dead Head Blues

Marlene

There's Nothing Underwater

Intermission

Faculty Of Fears

The Big Guns Of Highsmith

Romart

I Don't Want To Wake Up Alone

Madame Van Damme

Smooth Day (At The Library)

Intermission 2

Sweetheart

Etude Op.3 'Goodnight Michalek'

Middle Of The Dark

A Bridge And A Goodbye
(by Scott Colothan)