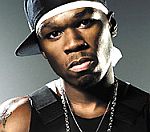 50 Cent
has claimed
Eminem
is not happy with his appearance on
Drake
's new single, 'Forever'.
The rapper sings the final verse of the track, which also includes guest appearances from Lil' Wayne and Kanye West.
However, during an interview on radio station Hot 97, 50 Cent suggested Eminem wasn't aware that any other hip-hop stars were to be included on the release.
"I don't think Em knew everyone was going to be on the record," he said.
"Initially I think he just did a verse with it. He mixed his records and then they remixed it. I don't think he's happy with that at all."
All four rappers recorded a Hype Williams-directed video for 'Forever' in New York last month.
(by Jason Gregory)