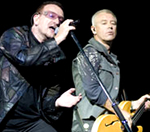 U2
's 360 degree world tour will continue into 2010 following the announcement of new European dates.
The Irish band have unveiled 12 new shows, starting in Frankfurt on August 10, 2010.
Other concerts are scheduled for venues in Moscow, Munich, Athens and Paris.
At present, there are no new UK dates, although additional dates and cities are still to be announced.
U2 are currently on the US leg of their 360 degree tour.
U2's 2010 European dates are:
Frankfurt, Commerzbank Arena - August 10

Hannover, Stadium - 12

Horsens, Casa Arena - 15

Helsinki, Olympic Stadium - 20

Moscow, Luzhniki - 25

Vienna, Ernst Happel Stadium - 30

Athens, Olympic Stadium - September 3

Istanbul, Ataturk Olympic Stadium - 6

Munich, Olympic Stadium - 15

Paris, Stade De France - 18

Seville, Olympic Stadium - 29

Coimbra, Stadium - October 2
(by Jason Gregory)