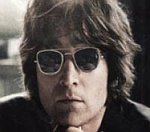 The bloodied clothes that
John Lennon
was wearing when he was shot in New York are set to feature in a new Exhibition.
The paper bag of garments will be one of the exhibits in John Lennon: The New York Years, a display being put together by his widow Yoko Ono in the city.
Ono has already admitted that it was a difficult decision to include the clothes and that she fears that she may be criticised by fans.
The exhibition is taking place at The Rock & Roll Hall of Fame Annex and also features handwritten lyrics, letters about Lennons possible deportation from America in the early 70s and several musical instruments including a piano and guitars.
Speaking about hosting the display in New York, Ono said: "I know it's a kind of a sad and very poignant kind of paradox, I think, that he loved this place so much and this where he was killed."
(by Daniel Melia)