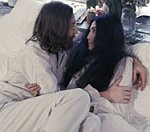 John Lennon
's 'Imagine' is set to be recreated by the bells of the Anglican cathedral in Liverpool this coming weekend.
The supposedly 'anti-religion' song will be played by the bells on Saturday (May 16) at at 1200, 1230 and 1330 BST.
The track opens with the now legendary line, "Imagine there's no Heaven", but will not stop it being part of an arts festival in the city.
Speaking to the BBC, a spokesman for the cathedral said: "Allowing Imagine to be pealed on our bells does not mean we agree with the song lyric."
He added: "We recognise its power to make us think. As a cathedral we do not shrink from debate. We recognise the existence of other world views."
The idea was first put forward by artist Cleo Evans, who was commissioned by the Futuresonic festival to develop a project with the cathedral.
She explained: "Imagine is an incredibly gentle, philosophical and moving song which speaks strongly of the need for peace.
"It is an iconic song which will be performed in a thought-provoking and surprising setting.
(by Daniel Melia)