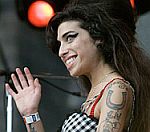 Amy Winehouse
has been slammed by fans following her disastrous comeback gig in St Lucia on Friday.
The clearly intoxicated singer forgot words to some of her hits and was accused of being drunk on stage by concert-goers.
At one point, the Rehab star is believed to have told the crowd at the St Lucia Jazz Festival: "Sorry, I'm bored."
"It was disappointing, it is very sad to see, but she is obviously not fit to be on stage," one fan told the BBC.
"I was hoping for better; it's embarrassing."
Another fan said the singer looked as if she was on a "different planet" during the hour-long performance.
The gig was billed as Winehouse's way of thanking residents on the Caribbean island for their hospitality over recent months.
The singer's spokesperson said adverse weather conditions had led to technical difficulties through the set.
But Winehouse is reported to have looked disinterested – and at one point in her performance sat slumped on a stage speaker.
The singer has been an on and off visitor to St Lucia over the last five months.
Despite her poor performance, the island's Tourism Minister said Winehouse would be invited to perform again in the future.
Allan Chastanet told The Sun: "It's a shame it did not go better but we will bring her back in the future.
"We fully support her and hope she can get well. We have a lot of admiration for her."
(by Jason Gregory)