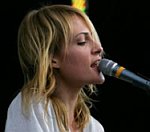 Metric
have announced the tracklisting for their new album, '
Fantasies
'.
The band's fourth album, which is released on April 14th, has been produced alongside Gavin Brown and Jimmy Shaw.
The group have established their own distribution company to release the album worldwide, while two independent labels will manage the release in Mexico and Canada.
In a statement on their website, singer Emily Haines admitted that the group taken a "gamble" by choosing to release the album without the help of a major record label.
The tracklisting for 'Fantasies' is: