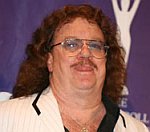 Lynyrd Skynyrd
keyboardist Billy Powell has died at his home in Florida. He was 56.
Powell is believed to have telephoned police in the early hours of Wednesday (January 28th) morning saying he was having trouble breathing.
Paramedics arrived at his home, but the keyboardist died shortly before 2am, the Associated Press news agency reports.
Powell's defining keyboard playing is evident throughout the band's music, including such hits as 'Freebird' and 'Sweet Home Alabama'.
Powell was one of only two survivors of a plane crash in 1977 that killed bandmates guitarist Steve Gaines, singer Ronnie Van Zant and backup vocalist Cassie Gaines.
He is survived by his wife and four children.
(by Jason Gregory)