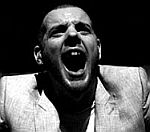 The Streets
' Mike Skinner had medical treatment on Tuesday (January 27th) after crowdsurfing above an audience in Cambridge.
Skinner claimed he was punched by fans during the stunt at the Corn Exchange, and woke up the following morning in "unbelievable pain".
Skinner was treated by medics from the St John's Ambulance at the venue.
"Seriously never known pain like it and I broke both my arms when I was younger, hardly noticing it," he wrote on his blog.
"Some kind of tendonitis, cramping and general bodily bashing."
Skinner debuted what he claimed was a new form of crowdsurfing at a gig in Brighton last year.
The stunt sees him run to the back of the crowd, who then carry him back to the stage on their arms.
(by Jason Gregory)