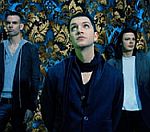 Placebo
will release they new studio album in June, frontman Brian Molko has said.
The album, which is the follow-up to 2006's 'Meds', has been produced by David Bottrill, and is the band's first with the PIAS entertainment group.
"We were very lucky to have so many great labels interested in signing us, it means a lot, especially after 12 years of releasing records," Molko said.
"But we now feel we have the right partner for Europe in these ever-changing times to continue this crazy adventure and to scale even dizzier heights with our new record."
The album, which is yet to be titled, will be the band's first to feature new drummer Steve Forrest.
(by Jason Gregory)