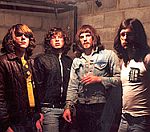 Kings of Leon
frontman Caleb Followill has said the band's religious upbringing is one of the main reasons they have been able to write so much music recently.
The band, which consists of three brothers, Caleb, Nathan and Jared, and their cousin, Matthew, were all raised by their father, who was a preacher.
"Our favourite thing to do is to create music because we were somewhat deprived of it while we were growing up, due to religious standards," Followill told the Daily Star newspaper.
"Now, whenever we get in the studio, someone will play one riff and before you know it, like, literally, within 15 minutes, we all have our parts."
As previously reported, Kings of Leon are currently number one in both the UK album and singles chart.
Their new album, 'Only By The Night', is already the second fastest selling album of the year, shifting 220,000 copies in its first week.
(by Jason Gregory)